Robert A. Adelson, Esq.
Engel & Schultz, LLP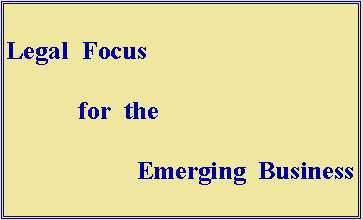 A series of columns prepared by Attorney Robert A. Adelson that appear,
with his permission, in The Business Forum  Online® each month.

Index of Columns by Robert A. Adelson, Esq.

Strategic Alliances and Business Contracts

See also:
Federal grants are an overlooked option for bootstrapping startups
by Robert A. Adelson, Esquire

---

Robert A. Adelson, Esq. is a partner at the Boston law firm of Engel & Schultz, LLP. . Mr. Adelson is a graduate of Boston University, Phi Beta Kappa, and Northwestern University Law School in Chicago, where he was a member of the Law Review. He has an advanced law degree, an LLM in Taxation, from New York University.

Mr. Adelson is a member of the Massachusetts, New York and U.S. Tax Court bars. He has been an attorney in practice since 1977, specialized in business law, including corporate, taxation, securities, options, licensing and technology contracting. With a stress on value-added services, Mr. Adelson represents many new and smaller corporations and businesses in many fields such as software, biotechnology and emerging technology areas.

__________

You may also want to read Mr. Adelson's Culpepper Letter
(Newsletter Issue 163, September 1997)
Negotiating the Terms of Executive Employment:
Getting What You Deserve

---

Robert A. Adelson, Esq.

Telephone: 617.951.9980, ext. 205
Email: radelson@engelschultz.com

---

Your comments and suggestions for these pages are most welcome!
---
URL: http://www.businessforum.com/raa.html
Revised: November 8, 2004 TAF
© Copyright 1996, 1999, 2002, 2004 Robert A. Adelson, All Rights Reserved.